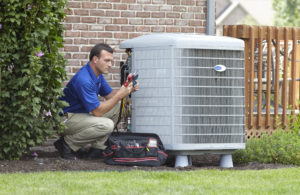 March means that spring has arrived, and that means warmer weather will be here soon, too. For many people, it might seem too early to start thinking about their home's air conditioning system. But, there's really no better time than the present to call Stafford Mechanical Services, Inc. to book your spring maintenance. Appointments tend to fill up fast, so you'll want to get one scheduled before the warm weather hits!
Of course, you might be wondering why you should even bother with annual maintenance. You might think it's an unnecessary expense, or not really important for your system. However, there are many reasons why getting preventive maintenance is a good idea – not only for the comfort of you and your family, but for the efficiency, effectiveness, and durability of your equipment as well.
Why should I get annual maintenance for my air conditioning system?
Many people don't really think about their home comfort system – until something goes wrong with it. But your home's air conditioning system is a complex machine with many moving parts, and needs preventive maintenance so it can last longer and operate better. Below are five reasons why getting AC maintenance is so important – learn more:
1. Improved energy efficiency. When the coils and filter of your air conditioning system get dirty, this can make your system have to work harder than usual. Annual maintenance will provide the cleaning your system needs to run more smoothly and in turn, use less energy.
2. Cleaner indoor air. As we mentioned above, components of your air conditioner can get dirty over time. Have you ever turned on your system and instantly noticed a musty smell? That's because your AC's evaporator coils play host to mold and mildew. Preventive maintenance includes coil and filter cleaning – helping to keep the air in your home fresher.
3. Longer life for your equipment. Maintenance provides your air conditioning system with the vital cleaning it needs. Your technician will also check to make sure all components are working properly and that refrigerant levels are where they should be. All of these measures will help to ensure any small problems with your AC are taken care of before they become larger ones that can lead to system failure.
4. Warranty maintenance. If you look at your original manufacturer's warranty, you might notice that in order to keep your warranty intact, you must get regular maintenance for your system. Why is this important? Should your system need larger, more expensive repairs, your warranty can help you save money. Getting annual maintenance is a good safeguard – for your AC system and your warranty!
5. More effective cooling. Of course, the primary reason why you have an air conditioning system in the first place is so you can keep your home cool all summer long – and sometimes, even into the fall. If you've noticed your home isn't as cool and comfortable as usual, that's generally a good signal that your AC need a check-up. By getting the annual maintenance your system needs, it will operate much more effectively – helping you and your family stay comfortable.
How can Stafford Mechanical Services, Inc. help me get the AC maintenance I need?
At Stafford Mechanical Services, we're pleased to provide our customers with a complete lineup of air conditioning products and services, including annual maintenance. To learn more, or to schedule your AC maintenance, all you need to do is give us a call at (860) 684-9485, and we'll be happy to help.