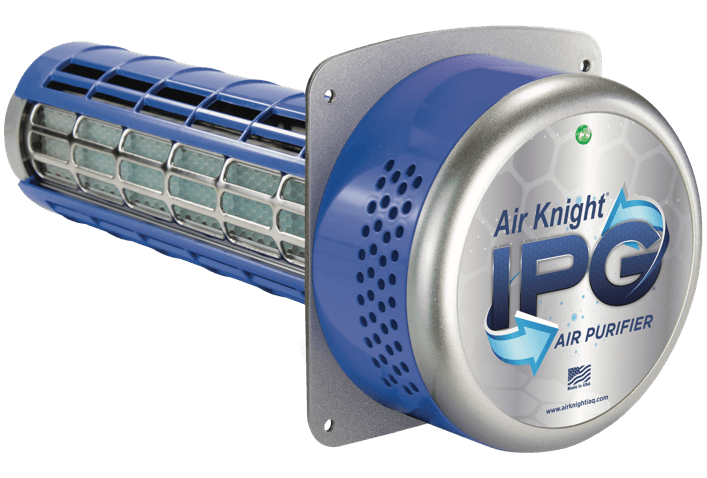 At Stafford Mechanical Services, we take the health and safety of you and your family very seriously. We strive to ensure that the heating and cooling systems in your home operate effectively and efficiently by providing you with the installation, maintenance and repair services you need. But did you also know we can help you get the best possible indoor air quality as well?
Stafford proudly offers our customers indoor air quality (IAQ) products that keep their air in their homes fresh, clean and contaminant-free. We offer air filtration, humidifiers, and the Air Knight, one of the most advanced air purification systems on the market today. The Air Knight system uses a unique new indoor air quality process to naturally produce ionic oxidizers that proactively seek out and purify pollutants in the air AND on surfaces.
Learn more about how the Air Knight provides advanced, active air
purification.
The Air Knight® Air Purification System uses a
unique new technology consisting of UV light energy combined with a 5-metal,
quint-metallic core to produce a proactive, advanced oxidation to cleanse air
and surfaces.
This new technology produces ionic oxidizers,
such as hydro-peroxides, super oxide ions and hydroxides. These oxidizers
become hydrogen and oxygen molecules in the indoor air after the purification
process.
By engineering the proper UV light spectrum in
combination with the quint metallic core, the Air Knight® produces a virtually
maintenance free unit that reduces odors, air pollutants, VOC's (chemical
odors), smoke, mold, bacteria, and viruses.
Stafford wants to help you get the best air quality for your home.
Now more than ever, the quality of the air we're breathing every day is important. You can count on Stafford Mechanical Services to help you when it comes to your indoor air quality needs. You may contact us via phone at (860) 684-9485. We look forward to helping you with all of your comfort needs.

GET STARTED WITH AN ESTIMATE
Call Stafford Mechanical at (860) 684-9485
See What Customers Are Saying:

"Great Job"
The crew showed up on time and worked thru the day to remove my older furnace and air conditioning system and installed the new units on the same day. Did a great job and cleaned up all debris before they left.
Daniel B.
– via Google Reviews

"Responsive, Friendly and Highly Competent"
I would highly recommend Stafford Mechanical. They were responsive, friendly and highly competent.
Nicole C.
- via Google Reviews

"They do it right!"
Technician arrived on time and was courteous and very respectful while in our home. I have used Stafford Mechanical for 5 years now and have never had a bad experience. They do it right!
Susan M.
- via Google Reviews

"Best Price... A Pleasure to Work With"
I have used Stafford Mechanical for service since 2013 for all my HVAC. The company is very professional and knowledgeable. I needed to replace my 18-year-old oil boiler, and they quoted me the best price compared to other companies in the area. I would highly recommend them for any of your HVAC service. Bob the owner and the service crew are a pleasure to work with.
Jonathan D.
- via Google Reviews
Why Choose Stafford Mechanical
Providing expert service since 1991
24-hour emergency customer service for contract customers
We hire NATE and EPA certified techs
Financing available with approved credit
To learn more, visit About Stafford Mechanical