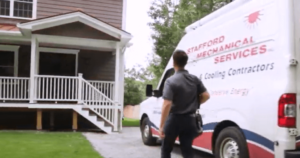 Stafford Mechanical is a great place to work!
We value our employees, and we make sure they have the right equipment, tools and training to succeed in the field of HVAC.
Full-time positions include:
Access to a medical and dental insurance plan
Paid holidays and vacation time
Access to a Simple IRA retirement program with an employer match

*
If you're interested in a career with Stafford Mechanical, please complete the following form and we will get back to you right away.
Below is a list of positions we're looking to fill on our team:
HVAC Ductwork Apprentice
We are a well established heating/cooling contractor company serving central and northeastern CT. We are expanding and have an opening for an apprentice in our ductwork fabrication and installation shop. This is a great opportunity for a dependable person to enter the HVAC trade.
Job Type: Full-time
Experience: HVAC: 1 year
General Laborer
We are a well established company that has an opening for a dedicated, focused individual who may be searching for a career in ductwork installation for new and existing buildings. This person would need to also dedicate time towards earning their state of CT sheet metal workers license.
Job Type: Full-time
HVAC Piping / Installation / Service Technician
We are a well established company looking for a CT licensed tech to install heating and cooling equipment, including radiant floor heating systems, oil & gas heating systems, ductless split and ducted split systems. You may also be working on commercial HVAC service and replacements, temperature controls and VF drives at times. The systems we work with can be as simple as a single zone ductless all the way up to a commercial oil-gas conversion using the most advanced and efficient boilers, pumps and control systems.We offer training as it comes available in respect to the systems that we routinely service.
Job Type: Full-time
Experience: 2 years
*Full details on employee benefits available upon request.