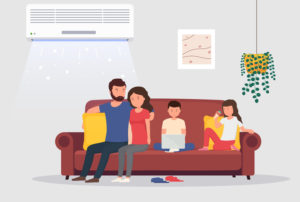 Once spring arrives, people often start to think of the warmer weather ahead. Many people have central air conditioning systems that rely on the home's duct system installed in their homes. However, homeowners who don't have ductwork or have added or enhanced areas of their homes may be wondering if there is any sort of AC system available that can help keep them cool and comfortable. Luckily, there is – ductless air conditioning.
Homes with baseboard or radiant heat, for instance, often do not have a system of ductwork, and that can make it impractical or impossible to install a central air conditioning system. Ductless cooling is a great solution to that problem. And because ductless can be installed using either multiple units or just a single unit, it's also a very practical solution for those who have built an addition or converted space in the home that isn't attached to the home's duct system. In this article, we'll talk about the benefits of ductless cooling, and how it can help you and your family enjoy greater home comfort.
Why choose ductless cooling for my home?
Of course, as we mentioned above, ductless is a great choice for installations where adding ductwork is not a great option, or in rooms outside your home's duct system. But there are many other benefits to choosing ductless that you might not be aware of. Keep reading to learn more:
Energy Efficiency: Because they rely on heat pump technology, ductless systems are highly energy-efficient, helping you save on energy bills, whether you use ductless in a single space or all throughout your home.
Sleek Design: Unlike clunky window air conditioners, ductless units are installed high on your wall or on your ceiling, allowing them to provide unobtrusive comfort that doesn't take up room in your living space.
Quiet Operation: Speaking of window air conditioners, in addition to blocking your view and taking up space, they are notoriously loud. Ductless is whisper-quiet, so all you'll notice is the comfort they provide.
Better Air Quality: Ductless systems filter the air before it enters your living space, helping to remove particulates like dust, pollen, and mold. And that helps you breathe fresher, cleaner air!
Ease of Use: Ductless systems are easy to control, most via remote. You'll be able to easily adjust the temperature so it's just right for you!
Year-Round Use: While some homeowners choose to install only ductless air conditioning, there are units available that can provide both cooling and heating, making them the perfect choice for those who need a year-round comfort solution.
How can I learn more about ductless cooling and heating systems?
Finding out if ductless is the right choice for your home is as easy as calling Stafford Mechanical Services. We'll help you choose the home comfort solution that's best for you, your family, and your home. Simply give us a call at 860.684.9485, and we will be more than happy to help you.