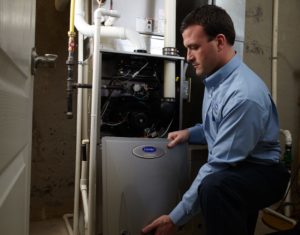 While the autumn season is still providing us with some warm days, the chilly winter weather will be here sooner than many of us would like. You will want to make sure your heating system is ready to take on the cold weather ahead. Just like getting your vehicle inspected and tuned up, getting your heating system maintained is good practice, too. The HVAC professionals at Stafford Mechanical Services, Inc. can provide you with the annual maintenance your system needs to keep you warm all winter long.
To learn more about
heating maintenance,
call or click here:
860.684.9485
Ask A Tech
You can count on our highly-skilled heating technicians to help you with your heating maintenance needs, effectively and efficiently. However, you might be wondering why you even need to think about heating maintenance in the first place. Believe it or not, there are many important reasons why you should choose annual maintenance for your heating system, from better efficiency to warranty maintenance. Learn more about the benefits of heating maintenance below.
Why You Should Choose Heating Maintenance for Your Home
Improved Efficiency. Heating maintenance includes cleaning your system, replacing a dirty filter, and proper lubrication of mechanical parts. Your system will work much better, helping to improve energy efficiency – which can help you save on heating bills!
Better Air Quality. Heating systems, especially forced-air systems like furnaces, can blow dust and other particles throughout your home. Often, a dirty air filter is a cause. With heating maintenance, the dirty filter will be replaced or cleaned, helping to improve the air quality in your home.
Longer System Life. Your vehicle probably wouldn't last too long if you never changed the oil or got new tires. The same goes for your heating system. Not getting yearly cleanings and check-ups can lead to system failure later on – and possibly premature replacement.
Fewer Expensive Repairs. Part of your annual maintenance includes a full system check-up, which can locate small, easy-to-fix issues before they become larger ones. Taking care of problems earlier than later can help prevent system failure – and a much more expensive repair or even replacement – down the road.
Maintaining the Warranty. Many people do not realize that most heating equipment manufacturers require maintenance to keep the warranty intact. Failure to get heating maintenance per your warranty's requirements can void it – leaving you to pay out-of-pocket expenses that would otherwise be covered.
Stafford Mechanical can help you get the heating maintenance you need this fall.
Getting the annual heating maintenance you need is as easy as calling Stafford Mechanical at (860) 684-9485. We will be more than happy to schedule an appointment with you. Keep us in mind for your heating repair and installation needs, too.
---