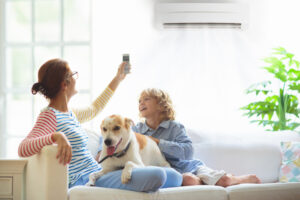 During the months of September and October, the temperature outside can fluctuate greatly. It's often impossible to know if the days will be warm and sunny, or chilly and cloudy. This can make it difficult to keep your home comfortable. Fortunately, there is an all-in-one solution that can help you stay nice and comfortable, no matter what the weather is like outside – ductless cooling and heating.
Ductless systems are a perfect choice for people who do not have ductwork in their homes. Generally, a home that uses baseboard heating likely does not have ductwork. This makes it extremely difficult and obtrusive to install central air conditioning, so many homeowners without ductwork must rely on window air conditioning to stay cool in the summer. Unfortunately, this can leave homeowners with chilly drafts during the transitional months. Ductless systems offer a solution that provides both better efficiency and comfort.
How do ductless systems provide both cooling and heating?
Ductless systems are generally installed as individual units per room or zone. They usually are straightforward to install, with technicians only needing to drill a small hole to connect the indoor and outdoor components. Most ductless systems then use heat pump technology to cool and heat the spaces in which they've been installed.
Because they use heat pump technology, they can keep homes cool in the summer and warm in the winter. They do this by transferring heat from one space to another. In the summer months, they remove the heat from the indoor air and transfer it outside. The process is reversed during the winter months, extracting heat from the outdoor air, and moving it inside. Modern ductless systems have been developed to work even in colder climates, so people can rely on them to provide the heating they in chilly weather.
What are some other benefits of ductless cooling and heating?
Aside from providing year-round comfort, ductless systems offer many other benefits, including:
Energy Efficiency: Because they use heat pump technology, ductless systems are usually highly energy efficient. According to the Department of Energy, they can offer up to 50 percent energy savings compared to baseboard heating. Not to mention, ductless systems are much more efficient than most window or room air conditioners, and you won't have to deal with them taking up living space or blocking your view.
Improved Indoor Air Quality: Each ductless unit has its own filter, which helps to clear the air of dust, dirt, and other particulates so you can count on the air being cleaner in your home. Additionally, ductless systems work great at keeping humidity levels where they should be in your home, helping reduce bacterial and mold growth.
Quiet, Unobtrusive Operation: Most people who own ductless systems are impressed by how quiet they are – much quieter than window air conditioning. And, because they're mounted high on a wall or in the ceiling, you won't have the worry of them taking up floor space in your home or becoming a fire or burn hazard, as can happen with space heaters or baseboard heating.
Can Stafford Mechanical Services provide ductless cooling and heating for my home?
We can! At Stafford Mechanical, we offer complete HVAC services, including ductless system installation, maintenance, and repair. When you need ductless cooling and heating for your home, you can count on us to assist you. You may contact us via phone at (860) 684-9485. We look forward to helping you with all your ductless needs.