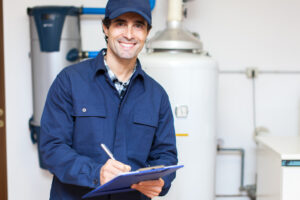 We know that when it comes to your home comfort company, you have a lot of choices. It isn't always easy to know how to choose the best HVAC contractor, and what you should be looking for. You need your cooling and heating system to operate effectively and efficiently, and you need a company that can provide you with the support you need, whether you need maintenance, repair, or a new system installed.
6 Things to Look for in an HVAC Company
There are several things you should keep in mind when choosing the best HVAC company for your home comfort needs. Below, we'll outline what you should look for, and how Stafford Mechanical Services fits the bill.
How long has the company been in business? Experience matters. When you're looking for an HVAC company, it's important to choose one that has been around for a while. Why? The longer a company has been in business, the more likely it is that they know how to keep customers satisfied, and that those customers have recommended the business to others. Stafford Mechanical Services has been helping people stay comfortable since 1991 – more than 30 years!
Does the company provide quality equipment? When choosing an HVAC contractor, it's important to consider the brands they provide, as well as affiliations with those brands. Many manufacturers require HVAC contractors to be authorized to sell their brands, and they must complete training and meet the appropriate criteria to be considered an authorized dealer. Stafford Mechanical is a Carrier® Factory Authorized Dealer, and we take great pride in representing one of the best brands in the HVAC business.
Will the company provide support before and after the sale? When you choose an HVAC company to install new equipment in your home, you'll want to look for a contractor that not only can provide the installation but makes sure you get the best possible type of equipment for your home and is able to service it in the future. As a full-service contractor, we'll make sure the equipment we install for you is the right size and configuration for your home. And, we'll provide you with any future maintenance or repair services you may need.
Does the company have positive review ratings? Sometimes the best recommendations are word-of-mouth. Check out a company's Google and Facebook reviews before you choose an HVAC company. You'll want to read through the positive reviews and see how the company responded to negative ones. While few companies will have a perfect, 5-star rating, you'll likely want to work with a company that has at least a 4-star rating on both sites. At Stafford Mechanical Services, we're proud to have a 4.8-star rating on Facebook, and a 4.6-star rating on Google.
Is it easy to request an estimate? An HVAC company shouldn't make it difficult for you to request an estimate on the work you need done by them. At Stafford Mechanical Services, you're able to request an estimate directly on our website, and we take the time to meet with our customers to discuss the different types of systems available and the unique needs of their homes.
Does the company have proper licensing and accreditations? Many states and even municipalities require licensure for HVAC companies, as well as various types of insurance. Additionally, there are several accreditations that companies can apply for that show they follow strict guidelines when it comes to employee training and the work they do in your home. Stafford Mechanical Services is fully licensed and insured, our technicians are NATE and EPA certified, and we are accredited with The ACCA Quality Assured (QA) Program and the IGSHPA.
Stafford Mechanical is ready to help you get the HVAC products and services you deserve.
Stafford Mechanical wants to help you and your family with all your home comfort needs. As you can see, we work hard to provide you with the best professional services available, as well as quality Carrier® products that are built to provide effective, efficient heating and cooling, for years to come. Just give us a call at (860) 684-9485 and we will be happy to assist you!