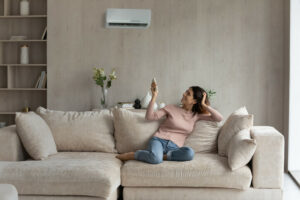 With the arrival of autumn, many people start to think about the chilly weather ahead and getting their homes prepared once the cooler weather rolls in. If you have a space in your home that doesn't have heating, you might be wondering how to make it a room you'll be able to use all year long. Many people worry about using space heaters in these areas for a variety of reasons.

For more information,
Call or click here:
Ask A Tech
860.684.9485
While today's models are safer than their predecessors, you still need to remember to turn space heaters off when the room is not in use, and they tend to use a lot of energy. Fortunately, there's a great alternative that can help keep your addition or converted space comfortable, even when the outdoor temperatures start to dip down – ductless heating.
What is ductless heating?
Additions, converted attics and garages, and finished basements often do not have access to your home's duct system, and adding ductwork to those areas can be a costly and messy venture. A ductless heating system operates independently of your home's heating system, so you can add heating to spaces in your home without a lot of muss and fuss.
Ductless systems typically use heat pumps to operate, and the outdoor and indoor units are connected by a small-diameter conduit. Your heating technician will be able to install your unit quickly, so you'll have heat for your space in no time.
What are some of the benefits of ductless heating?
Aside from the fact that a ductless heating system can make your home more comfortable throughout, there are a few other benefits you'll enjoy when you install a ductless heating system in your home:
Energy Efficiency: Heat pumps generally are highly energy efficient, which means you can add ductless heating to your home without worrying that your energy bills will go through the roof. In fact, it can even help your current heating system operate more efficiently because it won't have to work so hard delivering heat to your entire home.
Clean Heating: Ductless heating systems don't require fossil fuels or gas in order to operate, which can eliminate the potential release of carbon monoxide that can occur with gas or kerosene space heating.
Improved Year-Round Comfort: As an added bonus, your ductless heating system will allow for cooling in the summer. That's because ductless heat pumps transfer heat from one space to another. In the winter, they extract heat from the outdoor air and pump it into your home, and do the opposite in the summer. So, it's like having a heater and an air conditioner in one!
Quiet Operation: Ductless heating and cooling equipment provides whisper-quiet operation, making it the perfect choice for a guest bedroom or home theater room.
Longevity: Heat pumps last a long time with minimal maintenance. Keeping the filter clean and calling Stafford Mechanical Services for yearly maintenance is pretty much all you'll need to do to keep your ductless system in good working order.
I'm interested in ductless heating. How can Stafford Mechanical Services, Inc. help me?
At Stafford Mechanical Services, we're pleased to provide our customers with complete ductless services, including installation, maintenance, and repair. We can help you choose the best ductless configuration for your home, and our professional technicians will install your new system promptly. To learn more or to schedule an appointment with us, please give us a call at (860) 684-9485, and we'll be happy to assist you.