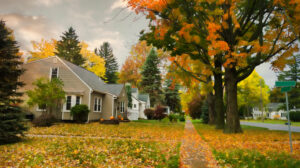 Now that the summer months are over and the fall season has arrived, many people are preparing their homes for the cooler weather ahead. Most homeowners use the autumn season to make improvements to their homes, including getting their lawns ready for winter, making small repairs to their homes, and cleaning dirt and debris that has accumulated in their home's gutters during the summer.

For more information,
call or click here:
860.684.9485
Ask A Tech
Most homeowners also shut down their air conditioning systems for the season by cleaning up around their outside units and getting their AC covers in place before the snowy weather returns. This is also the time of year when you'll want to ensure that your heating system is ready, and the best way to do that is by getting it the annual maintenance it needs.
There are a few reasons why getting fall heating maintenance is important.
Sometimes, homeowners wonder if it's really necessary to get heating system maintenance each year. They may think it's an unnecessary expense or may feel that their heating system is running just fine. However, there are a few good reasons to call your HVAC contractor for heating maintenance every year.
Better Records: Annual maintenance gives your HVAC contractor the opportunity to keep a running record of your heating system's performance year after year, as well as any repairs that have been made. It allows for better troubleshooting should something go wrong with your heating system.
Improved Performance: When you get annual maintenance for your system, it will be thoroughly cleaned and tuned up. That will allow your heating system to operate more effectively and efficiently, helping you stay more comfortable and potentially save money on your energy bills.
Safety: Many people grew up in a home that used fuel oil as the energy source for their heating equipment. Seeing a service tech carrying a vacuum and brushes to the heating system basement was a yearly thing. Now, many homes are heated using propane or natural gas fuel for their energy-efficient systems. The vacuum and brushes are no longer necessary on this equipment. The scope of yearly maintenance has changed to checking the safety controls within the heating equipment, checking the integrity of the internals, and checking the gas pressures along with the air intakes and exhausts in order to keep your system operating safely and efficiently.
Longer System Life: Maintenance helps your heating system last longer. Imagine if you never changed the oil in your vehicle, or replaced worn-out tires or wiper blades. You probably wouldn't expect your car to last very long. As a complex machine, the same goes for your heating system.
Cleaner Indoor Air: Through normal operation, dirt and dust collect in your heating system. When you don't have your system and filter cleaned regularly, those particles have nowhere to go except in the air of your home. They get circulated through your duct system time and time again, reducing your home's air quality.
Warranty Maintenance: Most equipment manufacturers require regular maintenance in order to keep your system's warranty intact. Failure to get the required maintenance for your heating system can result in the warranty becoming void – and that could mean out-of-pocket expenses for you should you need repairs or a replacement.
Stafford Mechanical Services, Inc. is ready to help you with your fall maintenance needs.
At Stafford Mechanical Services, Inc., we're pleased to offer our customers the heating maintenance they need to keep their equipment running smoothly. Call us today to schedule an appointment for your annual heating maintenance. You may contact us via phone at (860) 684-9485. We look forward to helping you with all of your home comfort needs.