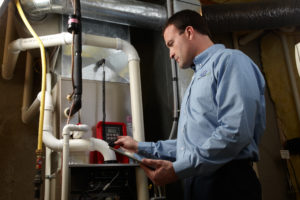 Chances are, you've been running the heating system in your home for a while this winter. If you've noticed that it isn't operating as effectively as you'd like, it may be because you didn't get annual maintenance this year. If you haven't, it's a good idea to call Stafford Mechanical and schedule maintenance with us. It's never too late to get your heating system the maintenance it needs.
For more information,
call or click here:
860.684.9485
Ask A Tech
When a heating system isn't properly maintained, you may notice a few telltale signs. As we said earlier, you might not be as comfortable as you'd like. Or, your heating bills may be higher. There are many good reasons for getting heating maintenance on an annual basis, whether you have a furnace, heat pump, boiler, or ductless heating system. We've outlined a few of the main reasons below – keep reading to learn more!
5 Reasons You Should Get Heating Maintenance
Your system will be more effective. When your heating system is properly maintained, it simply works better. Your home will be more comfortable without having to keep cranking up the heat.
Maintenance improves heating efficiency. Along with working more effectively, your system will also be more efficient. A part of heating maintenance includes cleaning your system, which helps it run more smoothly and not have to work as hard. That helps your system operate more efficiently, which can save you money on utility bills.
Your system will be less likely to break down. Heating maintenance helps ensure that your system is running smoothly. When your technician inspects and tunes up your system, they'll find any small problems and get them taken care of for you. And that means you'll be less likely to have to deal with costly repairs or replacement down the road.
Your indoor air quality will be better. Heating systems tend to collect dirt, dust, and other debris. When not properly maintained, those particles get circulated around your home. Annual maintenance will help ensure system components, including the filter, are clean – helping your indoor air stay fresher and healthier as well.
Your system's warranty will remain intact. Most equipment manufacturers require annual maintenance as a part of warranty maintenance. Failing to get annual maintenance could void your warranty – and cause expensive out-of-pocket repairs down the road.
When you need heating maintenance, you can count on Stafford Mechanical Services.
Fortunately, keeping your heating system maintained is simple – all you need to do is give Stafford Mechanical Services a call! Our technicians are professionals and trained to provide your heating system with the maintenance it needs. If you haven't gotten annual maintenance this year, don't worry – we'll be happy to schedule an appointment and get your system running at its most effective, efficient best. We proudly service Carrier equipment and many other brands as well. You may contact us via phone at (860) 684-9485. We look forward to helping you get the heating maintenance you need.