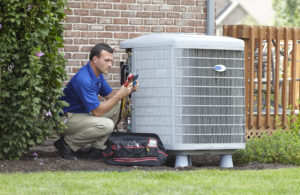 The air conditioning system you have installed in your home was likely a costly investment. Much like a vehicle, your AC system works hard to provide for you, and, like your car, it's a complex machine with many moving parts. Of course, you have your car maintained on a regular basis – making sure it gets the oil changes, tune-ups and small repairs it needs to keep running perfectly for you. You also need to do the same thing for your air conditioning system.
For AC maintenance,
call or click here:
860.684.9485
Ask A Tech
During the heat of the summer, it's likely your AC system runs most of the time, keeping your home cool and your family comfortable. It's important to know that this frequent running can cause wear and tear on your system. Your best bet? Choosing air conditioning preventive maintenance services from a reliable HVAC contractor, like Stafford Mechanical Services. When you choose to work with us, you'll discover the benefits of annual AC maintenance.
Here's how AC maintenance can help your system perform better.
Many people don't know the direct benefits air conditioning maintenance offers their system. There are several reasons to choose annual preventive maintenance, however, that will help preserve your system. Here are just a few reasons why you should consider AC maintenance for your system:
Your system will operate more effectively. This just stands to reason, because maintenance cleans your system and makes sure all the moving parts are working at top performance. And, getting maintenance annually can help ensure that your system works great not just this summer, but for years to come.
Your AC will be more efficient. An air conditioning system that has to operate while dirty, or with vital components not working as well as they should, takes more energy than a system that receives regular maintenance. A well-maintained system is more efficient, and can help you save money on your utility bills.
Your indoor air quality may improve. As we said previously, if you're system isn't well-maintained, the chances are it's also dirty. And that can mean contaminants are being circulated throughout your indoor air every time your air conditioner runs. Annual maintenance means your system is thoroughly cleaned – reducing particulates in your home's air.
Your warranty will remain intact. People may not realize this, but most of the time HVAC manufacturers require regular system maintenance to keep the warranty intact. If you fail to get maintenance and your system breaks down, you might end up with a voided warranty – and a large repair bill that otherwise may have been covered.
You probably won't have to deal with a major breakdown. Nobody wants to find out that their AC system needs repairs. But one of the benefits of regular maintenance is that your HVAC technician will spot small problems before they become larger ones. So you'll be able to remedy the concern right away, so it doesn't become an expensive repair down the road.
Stafford Mechanical can help you get the air conditioning maintenance you need.
We take great pride in not only providing our customers with top of the line equipment from brands such as Carrier®; we are also pleased to offer you professional services from our expert technicians. So, if you need to schedule annual air conditioning maintenance, give us a call at (860) 684-9485. We'll be happy to help with all your home comfort needs.