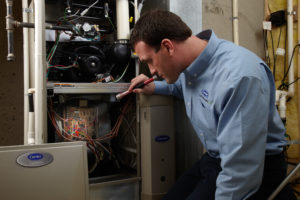 Most people make sure their vehicles have the proper windshield wipers and tires before the winter weather hits. They likely take their car in for a tune-up, inspection and oil change before the snow flies, too. Yet, many of us don't think of our home comfort equipment the same way. But, the furnace in your home needs proper care in order to run its very best, just like your automobile does. You may have heard about seasonal maintenance, but you may not understand the importance of it.
For seasonal heating
maintenance information
call or click here:
860.684.9485
Ask A Tech
At Stafford Mechanical Services, Inc., we think it's important to do more than simply tell our customers that they need a product or service. That's why we take the time to explain to you the benefits of the services we provide. That includes seasonal heating maintenance. Choose us to help you get the maintenance you need for your furnace. You'll quickly see the advantages every time the heat kicks on.
Here are five reasons why seasonal heating maintenance is good for your furnace:
Energy Efficiency
When you maintain your furnace properly, it enjoys better energy efficiency. That's because mechanical components are lubricated and work more efficiently, requiring less energy to get the job done. And, cleaning or changing out the filter helps with efficiency, too, as your furnace can easily circulate air through your home – instead of trying for force it through a clogged, dirty filter.
Life of Equipment
Seasonal maintenance helps to prolong the life of your equipment. All the important inner workings of your equipment are checked, cleaned and maintained, so It also helps to find any tiny issues and remedy them before they become larger ones that are more difficult to fix.
Air Quality
Think about it – when your furnace isn't clean, how can the air moving through it be? A well-maintained system allows for freer airflow – and keeping your filters changed or cleaned on a regular basis is an important part of that. Your filter will trap many of the common allergens that plague your home, including pollen, dust, and pet dander. Getting furnace maintenance helps you breathe easier – literally!
Savings on Repairs
Even with preventive maintenance, sometimes you may need repair services. Usually, annual maintenance helps keep the repairs on the smaller – and less costly – side. When you have a maintenance plan from Stafford, you will save money on your repairs, should you need them. Plus, many warranties indicate that annual maintenance is necessary for the warranty to remain valid.
Better Home Comfort & Safety
When your furnace is running properly, your whole home will be more comfortable. As mentioned above, you'll have better indoor air quality. And, it's less likely that your furnace will experience any fires or carbon monoxide emissions, so you can feel a whole lot safer when your furnace is maintained. Helpful hint – coincide checking and/or changing smoke and CO detector batteries with your annual furnace maintenance for an added layer of protection.
Stafford Mechanical Services, Inc. provides the seasonal maintenance you need for your home.
As you can see, seasonal maintenance is an important part of staying comfortable all winter long. To get the furnace maintenance you need for your home's comfort and safety, simply contact Stafford Mechanical Services, Inc. at (860) 684-9485, and we will be more than happy to help you get the maintenance you need.