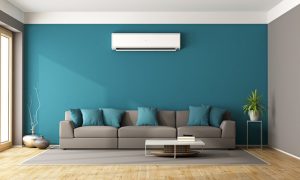 If you've been considering updating your home's heating and cooling system, you should know there's a way you can do it all – with just one system. Ductless heat pump systems have the capability of heating and cooling your home, and at the same time offer energy efficiency. And, with advanced technologies, just about anyone can choose a heat pump to effectively heat and cool their home.
Here are five reasons why a ductless heat pump system is a great choice for your home:
Energy Efficiency 
For more information
call or click here:
860.684.9485
Ask A Tech
Because heat pump systems move heat rather than generate heat, they can provide the same space conditioning at a fraction of the cost of older heating and cooling systems. The Department of Energy estimates that modern heat pumps can reduce electricity use by nearly 50 percent compared to furnaces and baseboard heat.
Air Conditioning Capabilities
A major benefit of a ductless heat pump system is that it not only can heat your home in the winter, but it can provide air conditioning in the summer months as well. Not to mention, they provide excellent dehumidification. As a result, your home will be cooler in the summer and less damp – and that means you and your family will enjoy better comfort.
Targeted Comfort
Is adding ductwork to your home is either impractical or impossible? With a ductless heat pump system, you won't have to worry. Mini-split heat pumps offer targeted comfort to every room in your home, without the need for additional ductwork. And because you have a separate unit in each area, you can control the amount of heating and cooling in each space to create the perfect indoor climate.
Quiet Operation
Because of the type of compressor heat pump systems use, they offer quiet operation as well as a longer operating life. That way, you and your family can enjoy home comfort without the noise you might get from traditional heating systems and window air conditioners – year after year.
Cold Climate Capabilities
Many people who have researched heat pump systems think that they won't work in the colder climates of New England. That's because in the past, it's true that heat pumps were more effective in milder climates. But with advanced technologies, ductless heat pump systems are now a viable alternative, even in chillier locales.
Stafford Mechanical can help you get the ductless system you need.
Think you're ready to consider a ductless system for your home? Stafford Mechanical Services, Inc. is ready to assist you! To learn more, please contact us via phone at (860) 684-9485. We look forward to helping you with all of your ductless heat pump needs!