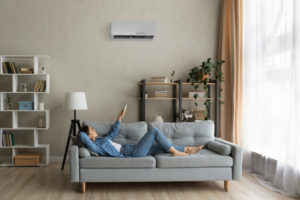 Most people enjoy the fun in the sun that the summer months have to offer, but they also like being able to escape the heat in a cool, comfortable home. Some may find, though, that there are areas of their home that are simply not as cool as they'd like once the outdoor temperatures start to rise.

For more information,
call or click here:
860.684.9485
Ask A Tech
If you have an addition, a space that has been converted into a living area (such as a garage or attic), or a finished basement, those areas may not be connected to your central air conditioning system. If that's the case, ductless cooling may be the right solution for you. In this article, we'll talk about the advantages of adding a ductless air conditioning system to your home.
How can ductless improve my comfort and help keep my home cool?
Ductless cooling offers many benefits, whether you choose it to keep a single area in your home cool, or the entire house. For people who don't have ductwork in their homes (for instance, homes with radiant or baseboard heat), ductless air conditioning is a great option. And, as we mentioned above, it also works well in areas of the home that don't have access to the duct system like additions or converted spaces. Here are a few reasons why you might consider ductless for your home cooling needs:
Energy Efficiency: Ductless cooling is a very efficient air conditioning choice. It is much more efficient than window air conditioning, and when used in conjunction with a central air conditioning system, it can help keep your home cooler and help your existing AC system work more efficiently as well.
Ease of Installation: If your home doesn't have ductwork, a ductless system will be far easier to install than a system that needs ducts to cool your home. Adding ductwork is often impractical or even impossible. Fortunately, a ductless AC system can be installed with minimal construction, as a small-diameter hole to connect the indoor and outdoor unit is all that is needed.
Targeted Comfort: Because you can easily control your ductless unit via remote (or even by a smartphone application for some units), you'll be able to keep your room at the exact temperature you'd like, simply by the push of a button.
Quiet Operation: Unlike window units that can be very noisy, ductless air conditioning systems are whisper-quiet, so you'll only notice that you're more comfortable. And, they won't obstruct your view, as they're usually mounted high on a wall or in the ceiling.
Year-Round Comfort: Many ductless systems are operated via a heat pump, so they not only can provide air conditioning during the summer months but heating during the winter. This makes them the perfect option for people who are considering replacing their old baseboard heating system.
Can Stafford Mechanical Services, Inc. install ductless cooling in my home?
We can! We are pleased to offer complete ductless air conditioning services, including installation, maintenance, and repair. We can help you choose the best ductless configuration for your home, and our professional technicians will install your new system promptly. To learn more or to schedule an appointment with us, please give us a call at (860) 684-9485, and we'll be happy to assist you.