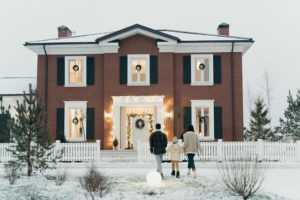 For many people living in the Northeast, winter weather means an increase in home heating costs. While we all need heat in our homes during the cold weather, most people would like to save money if possible. Rising fuel prices have left some homeowners wondering if there are any alternatives to traditional heating that can help them save money once the chilly temperatures return. Fortunately, there are more options than ever when it comes to home heating.

For more information,
call or click here:
860.684.9485
Ask A Tech
Heat pumps have been around for quite a while now, but they haven't always been a viable choice for home heating in colder climates. However, advanced technologies now allow heat pumps to operate effectively and efficiently, even in places where temperatures dip down below freezing during the winter months. Keep reading to learn more about heat pumps, and if one might be an ideal choice for your home.
What is a heat pump?
Heat pumps are home comfort systems that transfer heat using a heat exchanger, a compressor, and refrigerant-filled pipes. Heat pumps extract the heat from the outdoor air and bring it indoors. As an added bonus, heat pumps can also act as air conditioning systems, by reversing the process in the summer months. Cold-climate heat pumps are engineered to work even in sub-zero temperatures and can work as a stand-alone system, although many homeowners in very cold climates choose to have a traditional heating system as a backup.  That being said, even with a traditional, fuel-burning system, a heat pump can greatly improve energy efficiency and reduce oil consumption – and the subsequent costs.
What are my options when it comes to heat pump systems?
Heat pump systems are available in either ducted or ductless configurations. Ducted heat pumps work great in homes where people are choosing to replace an old fuel-burning system. Ducted heat pumps use the existing ductwork in the home to deliver heated air throughout your home. Ductless heat pumps, more commonly known as ductless or mini-split systems, are a great choice for homes that do not have existing ductwork and have used baseboard or radiant heat throughout the home. They also can help balance out cold spots, and heat areas of the home that may not have access to the home's ductwork, such as additions or converted spaces.
How can a heat pump system make my home more comfortable?
There are several benefits for homeowners that heat pump systems can provide, including:
Better Home Comfort – Heat pump systems can offer homeowners more consistent comfort during the winter, as well as air conditioning during the summer months. Because of the all-in-one nature of a heat pump system, homeowners can look forward to better comfort year-round, all from one system.
Energy Savings – Most people are amazed at the energy savings they can enjoy with a heat pump system. In fact, the Department of Energy estimates that heat pump systems, when compared to fuel-burning systems, can reduce the home's energy consumption by up to 40 percent.
Ease of Installation – Because they don't require ductwork, or can be used with your current duct system, heat pumps can generally be installed by a qualified professional within a day under usual circumstances, and with minimal construction.
Quiet Operation – The indoor and outdoor components of both a ductless and ducted heat pump system operate very quietly – as quiet as a whisper. And, a heat pump system delivers a steady supply of heated air throughout your ductwork, so you won't have the noise of expanding and contracting ductwork to contend with.
I'd like to learn more about cold-climate heat pumps. Can Stafford Mechanical help me?
We sure can! We're pleased to offer heat pump systems in both ductless or ducted configurations, and we can help you choose the right system for your home. We proudly service Carrier heating equipment and many other brands as well. You may contact us via phone at (860) 684-9485. We look forward to helping you with all of your heat pump needs.