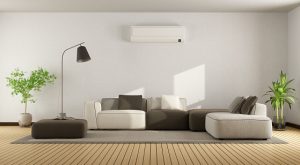 More and more, people are hearing about ductless heating and cooling. However, few people know that there are numerous benefits when it comes to choosing this home comfort technology for their home. Ductless heat pump systems have the capability of keeping your home cool in the summer and warm in the winter, and with advanced technology, many of these systems are adaptable to the cold climate we experience. You can enjoy comfort all year round with today's ductless – and much more.
Maybe you have an area of your home like an addition, converted attic or garage, or finished basement that could benefit from heating and cooling. Or, perhaps you're considering replacing your entire antiquated electric heating system. Ductless air conditioning and heating is the perfect solution in both scenarios. That's because ductless is just as the name indicates – a system that can keep your home comfortable year round, without the need to install additional ductwork.
And because ductless systems use heat pump technology, they are extremely energy efficient.
Each zone (if you install a ductless mini-split system) has its own thermostat. As a result, temperatures throughout the home can be precisely controlled. Because you're only conditioning spaces that are being used, energy is saved – and ultimately money on your utility bills. And, according to the Department of Energy (DOE), ductless systems are also more efficient because of the simple fact they don't use ductwork – the DOE indicate that duct losses can account for more than 30 percent of energy consumption for space conditioning.
But beyond the advanced comfort and energy efficiency these systems can provide, many homeowners love ductless because it's both quiet and unobtrusive. Because ductless systems are so flexible because they come in a number of styles, including high wall, ducted console, and cassette units. Ductless is also engineered to provide low operating noise. Unlike clunky, noisy window units ductless systems can be streamlined to fit into your home environment seamlessly. All you'll notice is better comfort.
With ductless, you and your family will breathe easier, too.
A final benefit to ductless is its ability to help with allergen control in your home. Each separate unit has its own filter. That lets the air in rooms that have ductless installed be more comfortable, cleaner and fresher. With ductless, the air is circulated within the confined space of the room. That means no cross-contamination such as fumes, dust and odors from other areas of the home.
Stafford Mechanical Services, Inc. is ready to assist you with your ductless heating and cooling needs. We proudly service Carrier heating equipment and many other brands as well. You may contact us via phone at (860) 684-9485. We look forward to helping you get into a new ductless system for your home.