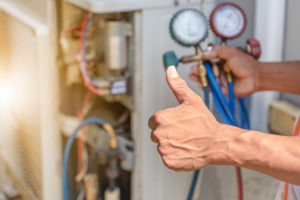 When you need home comfort solutions from a qualified HVAC professional, it's important to do your research. Today, there are many HVAC contractors advertising their businesses, and it can be hard to know who to trust to help meet your home comfort needs. You want a professional company that understands heating, cooling, and indoor air quality equipment inside and out, and that can provide you with a range of services including installation, repair, and maintenance.

For more information,
call or click here:
860.684.9485
Ask A Tech
There are a few key factors you should consider when choosing an HVAC contractor to help meet your cooling and heating needs. Remember, you're inviting this company into your home, and putting your family's comfort in their hands! In this article, we'll discuss those factors, and how Stafford Mechanical Services, Inc. stacks up.
5 Factors to Consider When Choosing an HVAC Company
How long has the company been in business?
In today's world, many HVAC providers come and go, and that can leave you in an unfortunate situation if you have problems with the equipment they've installed or repaired. That's why it's vital that you check and see how long the company you're choosing has been in business. The longer they've been in business, the more likely it is they've earned a reputation for customer satisfaction. At Stafford Mechanical, we have been providing customers a complete suite of heating and cooling services, including sheet metal duct fabrication, since 1991. That's more than 30 years of helping customers stay comfortable!
What range of services does the contractor provide?
When choosing an HVAC contractor, you want a company that can help meet your home comfort needs, no matter what the weather outside is like. You'll want to know they can help you if you have an emergency and can provide you with the services you need to help your heating and cooling system work effectively and efficiently. Stafford Mechanical proudly offers complete HVAC services to our customers, including:
Air Conditioning Installation, Maintenance, and Repair
Heating Installation, Maintenance, and Repair
Ductless System Installation, Maintenance, and Repair
Indoor Air Quality Solutions
In addition to our residential services, we provide water heating products, gas piping, sheet metal fabrication, commercial services, and even HVAC systems for your indoor pool.
What licenses and affiliations does the contractor possess?
High standards are important when it comes to the company you choose to help keep you and your family comfortable. A reputable HVAC contractor is licensed to provide the services you need and has certifications above and beyond those licenses. At Stafford Mechanical, we possess numerous credentials, so you can put your trust in us, including:
State of Connecticut Unlimited Heating & Cooling Contractor's License S1
State of Connecticut Unlimited Sheet Metal Contractor's License SM1
State of Massachusetts Sheet Metal Contractor's License – Masters
Certified IGSHPA Geothermal Installer
Certified NATE-Trained Technicians
EPA-Certified Service Technicians
Does the HVAC contractor have a positive rating?
Nowadays, people are looking to the internet and social media to check out reviews and ratings when it comes to choosing an HVAC contractor. Does the business you're researching have a social media presence? A website? What do their Google reviews look like? At Stafford Mechanical, we invite our potential customers to check out our reviews and our Facebook page. You'll find we have a 4.6/5-star rating on Google, a 4.8/5-star rating on Facebook, and a 5/5-star rating on Review Buzz. Check out our reviews for yourself!
Does the HVAC contractor offer emergency service?
When looking for an HVAC contractor for your home, you want to find a company that can help you in an emergency situation. Equipment breakdowns don't happen on a schedule, and a good HVAC contractor understands that. Stafford Mechanical's service department is available 24-hours for emergency customer service and is here to assure our valued customers that even after the job is done you will be well taken care of in event of any unforeseen emergency heating or cooling repairs.
Learn more about how Stafford Mechanical Services, Inc. can help you.
Stafford Mechanical wants to help you and your family with all of your home comfort needs. As you can see, we work hard to provide you with the best professional services available, as well as quality Carrier® products that are built to provide effective, efficient heating and cooling, for years to come. Just give us a call at (860) 684-9485 and we will be happy to assist you!