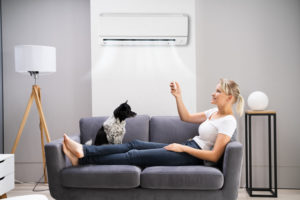 For many people, sharing their home with a pet is a rewarding experience. While there are all types of pets in homes across the country, in the United States, people are most likely to own dogs, cats, or both. Of the approximately 85 million households with pets across the country, more than half of them call a canine or a feline a member of their family.
With pet ownership comes responsibility, of course. Most pet owners will tell you that they view their four-legged friend as a member of the family. As a dog or cat parent, there are a few things you can do to help your pet enjoy better comfort – and help the humans in your home in the process!
Keeping Your Pet Comfortable at Home
Most families can't spend their entire day at home with their pets and often choose to contain them in a specific area of their home while they're away at work or school. It's important to keep those areas comfortable for your pets, especially during the summer months. This is especially true if you need to crate your pet for any length of time. If the room you keep your pet in while you're away from home isn't air-conditioned, it can get uncomfortably hot for your dog or cat. Fortunately, there is an easy way to make this space in your home more pet (and human) friendly – ductless air conditioning.
Unlike window air conditioning, a ductless unit won't block out your furry friend's window view, because ductless systems are attached high on your wall or ceiling. You also won't have to worry about any cords being chewed, pulled, or unplugged like you might a window unit. And, ductless is easy to control – some systems can even be attached to your Wi-Fi, so on those days when the temperatures might get unexpectedly hot, you can turn the ductless unit on for your pet remotely. What's more, ductless AC is energy-efficient, so you'll use less energy than you would with a window air conditioner. And, it makes the space it's installed in more comfortable and accessible for your entire family – furry or human!
Cutting Down on Pet Fur, Dander, and Allergies: 5 Tips
Of course, sharing a home with a dog or a cat also means sharing your home with their fur and dander. And, for pet owners who may suffer from some allergies, this can cause some discomfort. Here are a few tips to help you keep your home as free from fur and dander as possible – and a few ways Stafford Mechanical Services, Inc. can help, too.
Groom your pet regularly. Cats and dogs can always benefit from a good brushing and occasional baths. This helps you control their shedding and keep unwanted hair (at least to a larger degree) off furniture and clothing. And, keep in mind that some dog breeds require frequent professional grooming to best keep their fur under control.
Vacuum carpeted areas often. Especially in the spring and fall, when your pets tend to shed the most. You'll want to vacuum at least weekly, and likely more often during prime shedding months. And, keep tiled and wood floors swept and damp-mopped as well. You may even want to vacuum your upholstered furniture, too, as it tends to be a pet hair magnet.
Keep your pet's bed – and your bed – clean and fresh. If your pet uses a pet bed, it's important to keep it as clean as possible if you don't want excessive fur flying around your home. If you share your bed with the resident kitty or doggo, you'll want to make sure you regularly wash your bedding, too.
Make sure your HVAC filter is clean. Your HVAC filter gets dirty with use, but when you have pets, it can become clogged more quickly. That's because pet hair easily circulates through the air in your home – and through your HVAC system. If you know how to check and change your own filter, you'll probably want to do so more often if you share your home with furry friends. If you're not sure, just give Stafford Mechanical a call and we'll be happy to help!
Consider installing indoor air quality products. Many people with pet allergies still choose to keep a cat or dog in their home, in spite of feeling sniffly or sneezy. Very often, people are allergic to the dander – the tiny flecks of skin shed by pets. Certain types of indoor air quality products, like air purifiers, can help to cut down on the amount of dander in your home's air. Stafford Mechanical offers air purification systems that can help!
Call Stafford Mechanical for the products you need to keep your family comfortable.
Whether you're looking for a cooling system that can help your entire family – furry and human – more comfortable, or indoor air quality products that can help control pet hair and dander, Stafford Mechanical Services, Inc. can help you. Just give us a call at (860) 684-9485, and we'll be happy to discuss your options with you!