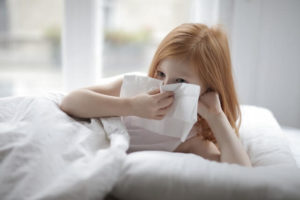 Summer is winding down, and before you know it, autumn will arrive. While there are so many things to look forward to in the fall – changing leaves, crisp, sunny days, and pumpkin spice everything – there are unfortunately some culprits that can make the fall season a less than exciting thought. For many people, allergens are on the rise, and that can make autumn a sniffly, sneezy, and uncomfortable time of year.
But you should know, there are products available on the market that can help keep fall allergens at bay in your home, helping you to create a safe haven. In this article, we'll talk about the two most common autumn allergens, how they can affect you, and the products available that can help keep them out of your indoor air.
First, let's talk about fall allergy symptoms and the two most common culprits.

For more information,
call or click here:
860.684.9485
Ask A Tech
Most of the time, people who have allergies are well aware of the fact that there is some particulate in the air they're breathing that's causing a problem. The Allergy & Asthma Foundation of America describes symptoms that include:
Sneezing
Nasal symptoms – itching, congestion, runny nose
Itchy mouth, ears, and eyes
Irritated eyes (red, watery, swollen)
They add that mold allergies often produce similar symptoms. Mold, however, can also get into the lungs and cause an uptick in asthma and other respiratory concerns.
Mold
While most people enjoy watching the leaves on the trees change to all sorts of beautiful colors, that also signals that those pretty leaves will soon be falling to the ground. Once there, leaves and other organic materials that are beginning to die off become the perfect place for mold to grow. Of course, you might be thinking, "How does that affect my indoor air quality and cause allergies once I'm inside?"
Unfortunately, mold can enter your home on your shoes and clothing. And, because fall tends to be a damp season, areas of your home prone to moisture, like bathrooms and basements, may grow mold more easily this time of year. If you suffer from a mold allergy, it's important to take all the measures possible to keep mold out of your home – and out of your respiratory system!
Ragweed
Ragweed is one of the main causes of allergic rhinitis in North America, mainly because this plant can grow anywhere. From rolling meadows to cracks in the pavement, where there's a patch of dirt, there's an opportunity for ragweed to take root. Ragweed produces about one billion grains of pollen per plant per season, so you can see that anyone with an allergy to it is bound to suffer once it starts blooming – usually late summer throughout the fall season.
Ragweed pollen is also highly mobile and travels easily through the air. That means it can land on your clothing, your hair, and even on your pets! It can enter your home easily that way, as well as through an open window or door. While keeping ragweed pollen out of your home may seem like an impossible feat, there are fortunately some products that can help.
What types of products can help me keep my indoor air free of allergens?
Fortunately for allergy sufferers, there now are several types of products available on the market today that can help you improve your home's indoor air quality. Learn more about the products offered by Stafford Mechanical Services, Inc. below:
Air Filtration: Did you know one of the easiest ways you can keep the air in your home cleaner and fresher is simply by making sure your system's filter is changed regularly? Stafford Mechanical Services, Inc. is happy to help with your air filtration needs. Air filters are beneficial because they trap pollutants, allergens, and other pathogens that can cause poor indoor air quality.
Air Purification: Stafford proudly offers our customers indoor air quality (IAQ) products that keep the air in their homes fresh, clean, and contaminant-free. We offer the Air Knight, one of the most advanced air purification systems on the market today. The Air Knight system uses a unique new indoor air quality process to naturally produce ionic oxidizers that proactively seek out and purify pollutants in the air AND on surfaces.
Okay, I want to learn more about better indoor air quality. What's next?
Fall allergies don't have to get the best of you this year – you can count on Stafford Mechanical Services to help you get the products you need to keep mold and pollen at bay. You may contact us via phone at (860) 684-9485. We look forward to helping you with all of your comfort needs.